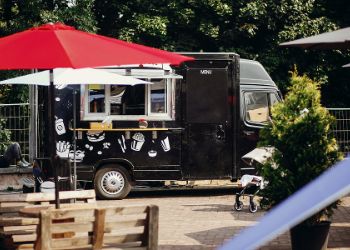 As the popularity of food trucks continues to grow, first responders need to have a better understanding of how to manage a food truck fire. While they are often called restaurants-on-wheels, battling these fires is often more similar to attacking a burning RV or a carnival food court. Brush up on your knowledge and prepare a plan of attack for your community's next scheduled food truck festival with these helpful reminders from American Trade Mark Co..
Common Ignition Points For Food Truck Fires
Just as in residential homes, the most likely point of ignition on a food truck will be cooking fires. Today's mobile restaurants often use deep-fat fryers, grills, and flat tops to produce their cuisine. Your crews should be prepared for a grease fire or LPG leak. Other possibilities include an electrical fire, sparks from a generator, or one associated with the truck's engine.
Anticipating Onboard Flame Suppression Systems
While a brick-and-mortar restaurant is required to have fire suppression systems, hood vents, and multiple extinguishers, food trucks often skip one or more safety features during construction. If you are lucky, you may be able to activate the ANSUL system. But, when rolling up on the scene and the ignition source is unknown, have your firefighters be prepared with every suppression method.
Class K Extinguisher For Grease Fires
High-volume Hydrant & Hose For LPG Leaks & Vehicle Involvement
Class C For Electrical Fires
Food Festival & Fair Fires Present Added Dangers
Knocking down cooking flames can be quick, but the popularity of food trucks and public gatherings has added another layer of difficulty to many of these incidents. If you are faced with multiple trucks parked in a small lot, the danger of flames spreading throughout the festival is high. Move as many vehicles away from the flames and outside your 500-foot perimeter as possible. Every truck present will have more propane tanks, generators, and tents that can turn a minor incident into a significant one spanning multiple vehicles.
Collaborate With Food Trucks On Emergency Response Planning
Work closely with local food truck operators to develop comprehensive emergency response plans for the future. These plans should outline specific steps to take in the event of a fire and assign roles and responsibilities to team members. Emergency planning & education should include information on proper storage and handling of propane and ventilation system maintenance.
Maintain Communication & Accountability With Our Products
When responding to a fire that demands more than a single unit, ensure that your commanders have all the tools required for effective incident control. Issue every firefighter an accountability tag upon arrival so you are able to coordinate the evacuation, traffic control, and attack squads while keeping in touch with every crew member. Connect with the professionals at American Trade Mark Co. to stock up your command center today.