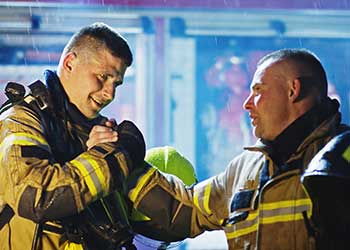 At American Trade Mark we know firefighters encounter dangerous conditions on a consistent basis, making accountability extremely important. As many fire departments lack a strong personnel accountability system, many teams do not realize their comrades or their crew members are missing. This has led to needless deaths in the line of duty. However, with a properly, implemented system and related equipment, firefighters can significantly improve their survivability and reduce unnecessary deaths.
Why Is Firefighter Accountability Important?
A commitment to firefighter accountability means that division officers always know which of their crew members are currently on-site or in a burning structure. A personnel accountability system visually represents where crew members are and what their assignments are. Allowing officers to quickly and easily locate them in an emergency situation. This system can help intervention teams understand who is missing in action and realize their last known location. With this knowledge and rapid deployment, they can reduce firefighter deaths.
Improve Safety With Accountability
Overall, personnel accountability systems can improve safety measures significantly. This accomplishes the standards set by the National Fire Protection Association (NFPA), stating an incident management system is necessary; it must track members and equipment in an emergency scenario.
What Tools Make Firefighter Tracking Easier?
The heart of a personnel accountability system is an incident command board. It is an easy-access dry erase board, with room to sketch the scene, detail tactics, list times, and account for personnel easily.
Tags Make Tracking Easy
In order to track crew members, an officer can collect or attach firefighter ID tags to the command board itself. Each firefighter has a particular tag, which they must give to their division officer before entering the structure. After exiting the structure, they can take the tag back from the collection. Overall, this system allows for easy and effective tracking of personnel, their particular locations, and their tasks.
Speed & Adaptability Make The Difference
Furthermore, as an officer can easily write on and wipe away the dry erase board, they can quickly record the scene without detracting from monitoring the situation. Likewise, once the system has been practiced, crew members will have no trouble following the fast routine so firefighter accountability does not interfere with important duties. Better yet, it is adaptable to every scenario as it does not require extensive effort.
Improve Your Accountability System Today With American Trade Mark
A well-designed personnel accountability system can mean the difference between life and death. As the safety of your comrades and your crew is at stake, contact American Trade Mark in Waldwick, NJ, for high-quality, easily-implementable systems and equipment.