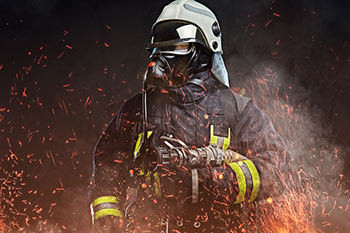 At American Trade Mark Co. our priority is helping you stay safe from common fire scene hazards. We manufacture incident command and accountability systems that are used to track personnel, vehicles and, tactics at an emergency scene. We also produce signs, plaques, and reflective decals. Our products are designed to make sure that people on fire scenes are safe and secure and the chance of injury is minimal.
Where There Is Smoke, There Is More Than Fire
Firefighters today face more than the danger of fire on scene. Even at the most common structure fire, there are numerous dangers including exposure to asbestos, hazardous vapors, and explosions. Combustion can produce dangerous toxic gases that may cause injury. Being aware of these hazards is paramount to fire scene safety and will help reduce accidents. Some of the common causes of fire scene injuries are:
Carcinogenic Chemical Exposure
Smoke Inhalation And Other Respiratory Hazards
Firefighter Fatigue
Heat Stress
Unstable Structures
Slips, Trips, and Falls
Electric Shocks and Burns
Infectious Disease Exposure
Vehicle Collisions
Bringing Order To The Chaos
With multiple chances for injury, various types of emergency response teams on site, and things changing all the time, a fire scene may seem like an accident just waiting to happen. Fortunately, at American Trade Mark, we manufacture products that help manage fire scenes, promote fire safety and, help prevent firefighter injuries. Vehicles and personnel can easily be placed on incident command board and tracked with accountability tags in a variety of options.
Taking Command And Control Of Any Emergency Scene
Once you know where your firefighters are, where emergency vehicles are, where fire scene investigators and EMT personnel are, in reference to any known hazards as they are uncovered, you can alert possibly affected persons and move vehicles. You can effectively control and command your space. Your goal is to reduce the number of incidents that cause accidents and firefighter injuries. Our goal is to help you.
Our Products Are Here To Help
At American Trade Mark, we want our firefighter accountability products to protect your departments from common fire scene hazards. We invite you to check out our customizable incident command boards, firefighter accountability tags, and passport systems to see how they can improve firefighter safety for you. Call us today to find out how we can customize your order or to have any questions you have answered. We look forward to hearing from you.