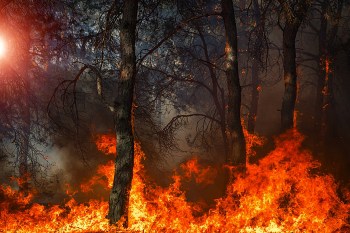 Bolster your current wildfire fireground communications with incident command systems and tools from American Trade Mark. Collecting, tracking, sorting, and communicating conditions, people, and resources on the scene are invaluable for saving lives, property, and fire personnel.
Our user-friendly systems are designed to take you from initial size up to final report, simply – no wifi required.
Record Initial Wildfire Conditions With Command Boards
Easily Update Changing Weather Conditions With Dry Erase Command Boards
Track Firefighters & Apparatus With Accountability Tags Or Passport Strips
Track Firefighter Movement With Magnetic Or Clip Command Board Tag Collection
Get The Information You Need In Front Of You With Customizable Command Board Layouts
Keep Current Stats On Hand With Mobile & Car-Based Command Systems
Wildfire Season 2020
The wildland fire statistics for 2020 are truly unprecedented. According to the National Interagency Fire Center (NIFC), between January and September of 2020, our nation has experienced over 42,000 fires, and lost close to 7 million acres. Add COVID-19 to the mix and you have a recipe for disaster for the unprepared or underprepared.
8 Of 2020's Worst Fires So Far
August Complex Fire – CA
Creek Fire – CA
LNU Lightning Complex – CA
North Complex Fire – CA
Cold Springs Fire – WA
Pearl Hill Fire – WA
OR-WIF-200430 – OR
Beachie Creek – OR
The Challenges Of Fighting Wildfires
Lightning, faulty electrical systems, and most-often, human error have caused fires from Oregon to South Dakota so far this year. One lightning strike can ignite multiple fires, spreading already strained resources. At American Trade Mark, we want to make sure your wildland fire suppression teams are up to each task while also keeping each member of your crew safe.
Safe Evacuations Despite Clogged Roadways
Quickly Spreading Fires
Changing Weather Conditions
Limited Available Fire Crews – Out Of State/Interagency Support Coordination
Limited Water Supplies
Firefighter Stress & Fatigue
Stretched Resources
Smoke Interference With Fire Suppression Aircraft
Fireground Safety Is Firefighter Safety
So, how can you reduce or meet the challenges unique to wildfires and wildfire season? Organization and communication are always key. You can never replace good training, leadership, and judgment, but having a place to easily collect and disperse the information you need in order to make split-second calls is also essential.
Tools For Better Fireground Communication
The best incident command systems and firefighter accountability programs are the ones you will actually use. Our incident command systems come in a variety of models – from the handheld K.I.S.S. Commander™ to our Dashboard™ Commander to The Steel Commander™ for the back of a command vehicle or the Case Commander®, which gives you an instant place-anywhere best view of the situation.
We offer a variety because no two departments are the same. Your needs and command style are unique, why wouldn't you choose an IC board and system that works for you and the wildfires you face.
Get & Stay Prepared For Wildfire Season
At American Trade Mark, we get the importance of having an effective incident command system during wildfire season. We'd love to help your team choose a command board, incident command system, or firefighter accountability system that just works for you.
If you don't see a layout or configuration that quite fits your crew, give us a call. We can help you with your order or create a custom design for your fire department. We look forward to hearing from you and supporting you on the frontlines.