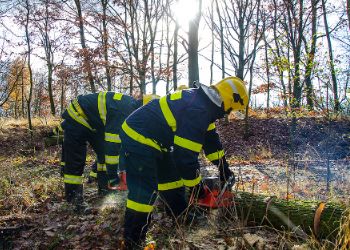 Firefighters often arrive first on the scene of not only fires but national disasters of all types. Identify areas where you need to improve your crew's preparedness for the most prevalent weather threats. This might include documenting emergency protocols or procuring the right equipment well in advance of a big storm or earthquake.
American Trademark has accessibility tags and incident command equipment that can aid your efforts.
What Natural Disasters Happen In The US?
It doesn't take much time to assess what natural disasters occur in your area. However, extreme weather patterns have become more commonplace in recent years. Here are a few of the most extreme weather events that occur in the US according to NOAA:
Tornados
Floods
Hurricanes
Blizzards
How Can You Improve Communication In Extreme Weather?
Review these communication tips to help your fire department with extreme weather events:
Know the weather threats to your local area in and out.
Clearly define communication roles and responsibilities.
Keep accident and injury communications fast and frequent.
Obtain the appropriate PPE to prevent weather-related safety hazards.
What Are The Potential Firefighter Roles?
Taking steps to prepare for extreme weather can prevent many problems from occurring. Here are some of the roles firefighters play during floods, storms, and other disasters that cause harm:
Preparedness: Firefighters may require training on specific rescue techniques during widespread devastation caused by extreme weather.
Life-saving aid: Firefighters may have to handle triage for victims, including CPR and other lifesaving aid. Firefighters/EMTs can lead this effort.
Utilizing community infrastructure: Fire departments often coordinate the announcement and management of equipment victims need the most when FEMA and state resources become available.
Safety In Extreme Weather
Fire departments often lead efforts to dig through the rubble, freeing trapped individuals and providing first aid. However, who's looking out for the safety of the fire crew? Train, plan, and take the right tools for the job.
Accountability tags make it easy to track people and equipment as they arrive on the scene. Firefighters should be issued accountability tags and be required to tag in and out of hazardous areas.
Organize your planning with an incident command product that doesn't require computers or the internet to work. American Trade Mark has a wide array of command boards in various styles and sizes. Choose the one that fits your situation.
Personal Protective Equipment (PPE)
Disaster-specific PPE may include:
Watertight clothing in flood conditions.
Lightweight rain gear for hurricane and storm recovery.
Heavy gloves for rescue missions following tornados.
Track Equipment & Personal On The Fireground
American Trade Mark provides a variety of products designed to keep firefighters safe and productive in extreme weather events, nationwide. Contact us today to find out how we can help you plan, train, and save lives in a natural disaster.