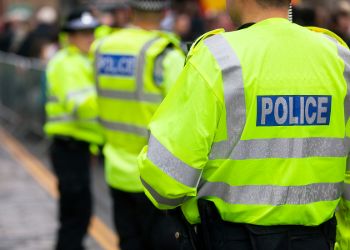 Our police officers and other law enforcement personnel often don't have the luxury of a protective six feet of space from potential corona virus carriers. Emergency calls put these brave men and women in close contact with people, day in and day out. With so much conflicting information out there and a market flooded with "protective" equipment, how can you be sure your first responders safe?
Know what is considered PPE in regard to the current pandemic.
Optimize your PPE supplies.
Source protective gear from reputable suppliers.
Stay up to date with changing standards as this pandemic evolves.
1. Protective Outerwear For Law Enforcement
During the current COVID-19 pandemic, the CDC recommends that law enforcement officers follow the same PPE guidelines they have created for EMS teams. Because your policing activities may include the need to access your duty belt and associated gear, the CDC has stated that you can do without the gown or overalls as long as you are able to disinfect your duty belt and gear after contact with individuals.
The minimum PPE requirements for EMS and police include four main pieces of gear.
A pair of disposable examination gloves.
A disposable isolation gown or single-use/disposable coveralls.
A NIOSH-approved N-95 or higher-level particulate respirator.
Eye protection including goggles or a disposable face shield that fully covers the front and sides of the face.
You may want to implement an accountability tag system, similar to our firefighter ID tags, for your department. These quick check-ins can help you to make sure each officer has the proper protective equipment on hand before answering calls.
2. Tracking PPE Supplies
In order to make sure each officer has access to the correct protective equipment it's important to have enough on hand. Tracking what you have coming in, what you have going out, and how quickly your supplies are being used can keep you aware and prepared.
Because the CDC has found that viable viruses can be detected for days to weeks on non-porous surfaces (like plastics), if you are using reusable half or full-face mask respirators, it's important to disinfect them between uses.
Consider using equipment marker decals to easily identify which items have been through decon and which still need attention.
3. Make Sure Your Masks & Gowns Are Legit
Protective gowns, respirators, and clothing go through an extensive oversight process to make sure they actually provide the protections listed in materials and product specifications. As the market ebbs and flows, we go from PPE shortage to an excess of options to try and meet today's demand. Unfortunately, many of the items up for offer may not meet the safety standards we need as first responders.
It's important to make sure you are ordering from reputable suppliers throughout the corona virus pandemic.
If you regularly record the nights responses on an incident command board or other types of incident tracking system, this may be a good place to note where other departments you talk to on a typical night, like fire personnel and EMS teams, are getting their gear. Keep and note this information as a backup in case your reliable supplier runs short.
4. Have Standards Changed? Be Aware.
Have respirator standards changed from N-95 to P100? Have we learned more about surface contamination? Am I responding to a scene in a high-risk area? Keep yourself and your enforcement crews up-to-date. Record and track the latest information for the CDC so you can stay flexible and safe as we all work together to stay safe.
Ask about our command board customization options. We may be able to supplement the systems you have in place with easy-to-learn and use solutions.
Order Tracking Tools For Police During Pandemics
At American Trade Mark, we want to help you protect police and law enforcement during this and future pandemics. We invite you to assess your current labeling and tracking systems and contact us for solutions wherever you could use a helping hand. We supply and customize decals, accountability tags, and dry erase board systems made to stand up to the wear and tear of firefighting. We look forward to serving you.