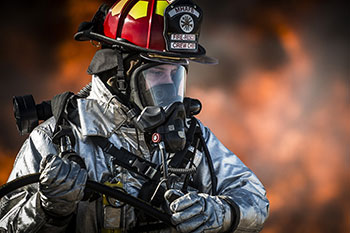 The most important job of the Incident Commander is firefighter scene safety. Communication, organization, and coordination of first responders, EMS, EMT, and firefighters is a big task to handle. When Incident Commanders have customized accountability systems fitted with magnetic tags for each member of the team, they have an easier time keeping track of their crew and gear.
Outline Standard Operating Procedures
Even though personal protective clothing and equipment can protect fire crews from some of the toxic risks associated with burning buildings, knowing how long they're being exposed to these harmful materials is vital to long-term health and fire scene safety. Having an organized safety officer at the scene has statistically proven to reduce the potential injury or loss of firefighters.
First Responder Delegation Made Quick & Simple
Firefighters and emergency medical personnel are expected to enter some of the most dangerous situations and thus require proper training to identify scene safety concerns. Situational awareness of fire scene is an essential skill that involves taking into account a number of dangerous possibilities. Fire scene safety products can aid the Incident Commander's ability to perceive, process, and predict dangers before they take place. We offer a wide range of scene safety products designed for saving the lives of firefighters and first responders.
Incident Command Boards
Accountability Tags
Equipment Marker Decals
Custom License Plates
Monitor The Scene Efficiently
Being organized at a glance is a lifesaver when it comes to a fire scene safety assessment. When command boards, customized tags, and decals are utilized, the safety assessment performed by the Incident Commander is a quick way for arriving fire crews to know where they need to go and provides safety zone suggestions, fire behavior patterns, entrances, and exits. American Trademark is the nationwide firefighter scene safety emergency response experts and can outfit your crew with the organizational tools pertinent to firefighter scene safety and situational awareness. Check out our online catalog or contact the scene safety experts for more information on our customizable firefighter safety products.