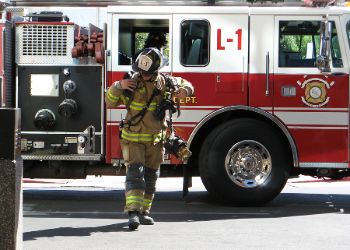 First responders go all out for their communities daily, without any thought of recognition, but at American Trademark we know they deserve awards and recognition.
Your community's first responders include:
Fire Department
Law Enforcement
EMS—EMT and Paramedic
911 Dispatchers
911 What's Your Emergency? Custom Plaques For Dispatchers 
When your call for help goes out, 911 dispatchers become the crucial links in matching your emergency with the appropriate first responders. Even though there is often an integrated response to the incident by Police, Fire, and EMS Departments, many dispatchers also deserve recognition for their probing questions and quick thinking during the initial 911 call.
911 Dispatchers Recognition Plaques
Dispatcher Awards Of Excellence
Excellence In Training And Length Of Service
Engraved awards can be presented to standout Police, Fire, and EMS trainees. And for veteran colleagues, your departments can also highlight their Distinguished Service and honor the Length of Service on wall plaques of various sizes.
Police Officer and Fire Academy, EMS Trainee plaques
Distinguished Service and Length of Service Awards
Honor First Responder Support With A Wall Plaque
Police Officers and Firefighters coach our kids, perform welfare checks, donate bikes and deliver birthday cakes. A personal message of thanks for your local first responder's random acts of kindness can be memorialized with custom awards or custom plaques anywhere in the nation.
Community Support plaque
School Resource Officer Awards
Mass Casualty Incidents Call For Calm and Confidence
When the situation is dire and chaos surrounds us, our law enforcement, fire, and EMS responders arrive to care for us and bring order after a mass shooting or even a building collapse. A custom award or engraved plaque from the community and businesses would elevate the heroes and help the healing.
Mass Casualty Incident Readiness Recognition
Police Department and Fire Department Response Award
Natural Disasters Responses Reveal Real Courage
First responders also train for natural events like tornadoes, hurricanes, and floods. Your neighborhood can experience this devastation while you witness the work of search and rescue crews. And ordinary people can inscribe that story on a plaque and recognize their courage. 
Natural Disasters Preparedness Recognition
Search and Rescue Team Recognition  
Call Us Today To Create Your Award or Plaque
Create your custom award plaques, for individuals or units, complete with crests, and engraved sentiments of recognition. Call or email us at American Trade Mark and tell us about your heroes around the country.