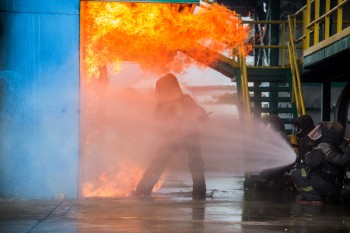 At American Trade Mark, all of our products are made with the safety of firefighters in mind. We want to make sure that each and every firefighter returns home at the end of the day. That's why we've created so many products that involve scene safety and firefighter safety, such as accountability boards and tags. Our goal is to keep the number of line of duty deaths across the country at a minimum—to help prevent LODD. We work hard to create products to keep fire departments safe and to reduce the chance of firefighter deaths.
Doing Our Best to Help Prevent LODD
LODD accounts for many fatalities per year across our country. We're doing everything we can by creating products and tools to keep firefighters safe and to avoid firefighter fatalities. Some of the products we have that help keep firefighters safe are accountability tags and incident command boards.
Accountability Tags
American Trade Mark accountability tags are an important part of any fire department in any city or town. Each officer is issued two tags, and when they enter a structure in an emergency, they use one of them to "tag in" to the Officer in charge. This lets the Officer know who is in the building. This is especially important when more than one city is responding to a fire. It's also useful to the Incident Commander when evaluating the available resources.
Using tags is one way to stay in control because scene safety can change quickly and having everyone's ID in hand or on the command board lets the Officer stay on top of firefighter safety.
Accountability Boards
Checking in on the American Trade Mark accountability board is important when you're responding to a call in a hazardous area or even when you're responding to a more minor fire threat. If you're the one in charge of the crew, our magnetic dry erase command boards with tags can help you maintain control. Some of these include:
The Steel Commander
Case Commander Incident Command System
Dashboard Commander Incident Command System
K.I.S.S Commander Command System
Our magnetic and dry erase command boards help you quickly assess the situation and help you determine which crew members to send to specific locations. They also let you keep track of how long responders have been on the scene. We offer unique and custom manufactured dry erase and magnetic command boards for teams both large and small.
Contact Us Today
We are here to help you prevent and avoid LODD by using our products to control and maintain any situation that faces your firefighters. Check out our catalog or call us today to find out more about standard or custom options to keep your crew safe.