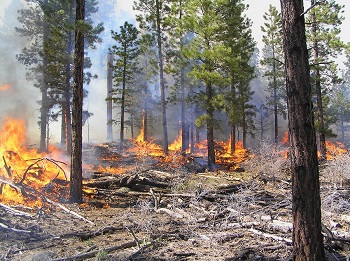 Whether you are on a dedicated woodland fire crew or IC for a structural firefighting team that also deals with forest fires from time to time, fire scene safety is crucial. At American Trademark, we have put together some wildfire safety tips to help keep your emergency personnel safe.
Wildland Fire Hazards
Being unaware of the unique hazards surrounding forest fires not only puts you at a disadvantage tactically but can put your team in real danger. It's best to treat each woodland fire call like brand new territory. Put your best efforts into preventing fire scene accidents or, worst case scenario, a line of duty death (LODD).
Basic wildland fire safety always includes awareness. Effective fire suppression operations during a forest fire should incorporate preparation for the following elements.
Unburned Fuel Sources: Grass, Weeds & Brush
Unfamiliar Terrain & Difficult Vegetation
Venomous Reptiles & Insects: Snakes, Lizards, Spiders, Scorpions & Bees
Toxic Smoke From Poisonous Plants: Ivy, Oak, Sumac
Snags & Dead Tree Limbs aka "Widow Makers"
Unkept Road Conditions
Fleeing Animals
Fire Scene Safety Tips For Forest Fire Crews
From wildlife to unpredictable shifts in a fire's direction, forest fires present many safety challenges for first responders. Wasps and hornets, suddenly falling trees, and hard to get to points of safety can all be hazardous. Here are a few tips to help you out.
Keep an emergency reserve of water in the pumper on scenes without a supply.
Determine safety zones and escape routes for people and vehicles.
Be sure the instructions are clear and understood by everyone.
Always put life safety over aggressive suppression.
Establish lookouts as soon as possible.
Issue and wear proper forest fire gear.
Establish scouts to size up the fire.
Keep communication current.
Track the weather.
Unsure About What's Next? Check In With IC.
Is the weather changing? Where is the fire heading now? As you can see, forest fire safety for firefighters depends on gathering, relaying, and updating information constantly. Found a beehive? Tape it off and report it. IC will make sure everyone knows.
Tracking Firefighters In A Wildfire
Forest fires can make a sudden run towards your fireline or fuel break crew, winds change, and falling debris can cut off an escape point. In these instances, communication can be life and death.
Nighttime operations, long fights, and increasingly dry, hot weather can all take their toll on a fire scene. Knowing where everyone is, who needs a break and making sure hazards are being marked and avoided while escape routes are updated are all essential.
At American Trademark, we can help make your wildland firefight a safe, effective and successful one.
Accountability For Better Fireground Safety
Keep track of your people and apparatus for increased fireground safety. Our firefighter tracking products include accountability tags, clips, systems, and passport type gear. These simple to use fire crew safety devices cannot be underestimated on a forest firefight.
Fire Scene Safety Products
We also carry a wide range of incident command boards and systems that make it easy to collect, track, and communicate vital information in an instant. Warn crew about approaching air suppression efforts which can fan the flames of a fire. Be sure that anyone without proper wildland PPE is taking breaks and that everyone is staying hydrated.
Get Help With Forest Fire Firefighter Safety
We invite you to contact us at American Trademark today. See how our accountability and incident command products can be customized to help you with fire scene safety during a forest fire.