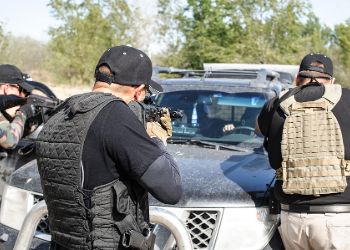 Desperate criminals and lives on the line—no one wants to be on the front lines of a hostage situation. Every emergency scene will be a unique and potentially dangerous situation for both prison staff and any first responders involved.
Fortunately, there are some things you can do to ensure the best possible outcome. Here at American Trade Mark, in Waldwick, NJ, we've put together 7 tips to help you with crisis management during a hostage situation.
Train with hostage situations in mind
Notify jail or prison supervisors
Contain & evacuate the volatile area
Information gathering—the hostage scene
Minimize radio communications
Get help—notify local policing agencies
Leave negotiations to the professionals
1. Train With Hostage Situations In Mind
Officer safety starts long before you have a crisis. It's essential to train with hostage situations in mind, so you don't have personnel acting on impulse or out of fear. Include officers, supervisors, command teams, and other agencies—anyone who would be notified in the event of a crisis.
2. Notify Jail Or Prison Supervisors
As soon as possible, get management involved. Keeping the higher-ups informed means you're more likely to get instructions according to facility policy. You can also mobilize command to start taking action on and behind the scenes.
3. Contain & Evacuate The Volatile Area
It's crucial to minimize the risk of injury or loss of life by keeping as many people as possible out of harm's way. That means evacuating everyone not involved in the hostage situation and keeping traffic from entering the area.
Create a perimeter and keep it secure. Our accountability tags are a great way of tracking sheriffs, deputies, EMS, and other personnel entering and exiting the perimeter.
4. Information Gathering—The Hostage Scene
Where are the suspects or assailants? Where are the hostages? What weapons are being used? Information gathering should start right away and be communicated consistently to IC. Our incident command boards make scene sketches and other pertinent information easy.
Adding new information as the incident evolves is simple with our dry-erase surfaces. You can also use custom printed tags on our magnetic boards to visualize and move people and resources.
5. Minimize Radio Communications
You will most likely be using both phone and radio communications. It's important to keep radio communication to a minimum so that critical calls can be made quickly and get to everyone who needs to know important information.
6. Get Help—Notify Local Policing Agencies
Alerting local response teams gets help on the way. You want med teams, hostage negotiators, and local police aware and in action as soon as possible. Getting these resources in crisis mode can add an extra line of safety to the crisis and security in the event of an escape.
7. Leave Negotiations To The Professionals
Although it may be tempting to involve family members or officers on the scene, hostage negotiators are trained to deal with desperate, suicidal, and dangerous individuals and their demands. It's important to leave as many of the negotiations to professional negotiators as possible.
Easy Command Tools—Quick Organization
Keeping officers safe during a hostage situation involves early training efforts and teamwork between jail staff and outside agencies. Make collecting and using essential crisis management information simple with easy-to-use incident command boards from American Trade Mark, based in Waldwick, NJ.
We also offer a variety of first responder tracking tags. We can customize your command systems with the information and add-ons you need to make these types of emergencies easier to manage. Contact us today to place your order.