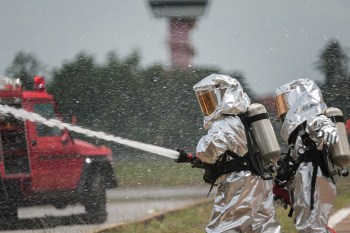 Get, communicate with, and track the people and information you need during your next hazmat response call with tips and tools from American Trade Mark. Be better prepared for hazardous chemical and industrial fires. We want to help you maximize firefighter safety during all types of potential response situations.
Chemical Fire Response Challenges
Many hazmat firefighters find themselves in low-frequency, but very high-risk situations. Because of manufacturing, shipping, and waste cleanup efforts, even rural departments may have to respond to a hazardous materials release situation. So, training early and often is beneficial and essential.
Isolation, Decontamination & Disposal
As homes and businesses become more filled with modern building materials, furnishings, and textiles that grow toxic when burned, departments understand the growing need to protect firefighters from exposure. A hazmat response usually also involves isolation, decontamination, and disposal of these chemicals.
A Multi-Agency Effort
Getting the right professionals in and keeping others out of harm's way is often a multi-agency effort. Police, EMS, local, state and even federal agencies may need to be notified and utilized. The specialized gear and number of responders required for these calls can also mean multiple smaller fire departments joining together. This means more people to track and communicate with.
8 Tips For Hazmat Fire Responders
You don't want to wait until you're on the way to an industrial fire, warehouse fire, or overturned chemical transportation vehicle to find out who knows how to approach hazmat threats effectively. We've put together eight tips to help your team feel more prepared, protected, and able to help others.
Ensure everyone knows how to read hazardous material signs and labels, including U.S. Department of Transportation Placards (DOT Placards) and NFPA 704 Markings.

Have an action plan in place – know your chain of communication, specifically for hazmat response. What agencies need to be called when?

Provide training that includes information and hands-on experience.

Avoid unnecessary exposure and contamination by sourcing and requiring proper hazmat equipment: hazmat suits, decon equipment, gas detectors, a NAERG (North American Emergency Response Guidebook), and Material Safety Data Sheets (MSDS).

Arrive and stage a safe distance away from the scene.

Watch out for tunnel vision – seeing the big picture (fire, explosion, etc.) and ignoring unseen dangers and vice versa.

Isolate, evacuate, and deny entry – you want to protect the public and your fellow first responders from exposure to dangerous chemicals.

Consider how the weather may affect the situation.
Prepare With Pre-Incident Surveys
OSHA also recommends doing pre-incident surveys of vulnerable local facilities, if possible. If you know a chemical manufacturing plant is in your jurisdiction, survey possible hazards and what features are in place to help you handle an emergency. What water supplies, suppression systems, confined spaces, and egress points are available to help you do your job at this specific location?
Helping Incident Command
Knowledge helps everyone stay alert and prevents downplaying a risky situation. Incident commanders have even more responsibility when it comes to a hazardous chemical situation. When dealing with substances that may be explosive, may react to air or water, and radioactive materials, time is of the essence. You have to collect information and make so many decisions, extremely quickly:
Should this be an offensive or defensive attack?- What extinguishing agents are safe to use?

Should you ventilate in this situation? What tools are safe (e.g. non-sparking tools)?

Controlling the movement of who's coming and going out of the fireground as known risks evolve.

Getting trained personal and necessary safety equipment assigned to the right areas.

Making sure medical officers have what they need to protect EMS teams and receiving hospitals.

Providing accurate information to public relations so they can both warn and instill confidence in those who may be affected.
Helpful Communication & Accountability Tools
Choosing flexible firefighter accountability and incident command board systems that work for both your typical and hazmat call makes tracking both information and people simpler.
Upgrade Your Hazmat Fireground Communications
Let American Trade Mark help your fire department respond to hazmat and industrial fires more safely and effectively. Order your incident command boards or firefighter accountability tags today. Or, call us to see how we can customize boards to benefit you. We look forward to enabling and supporting you on all types of response calls.