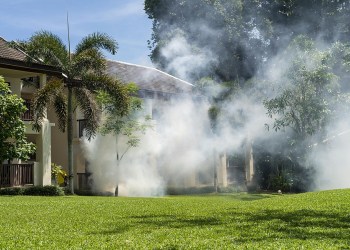 Hotel and resort fires are unique because of the sheer size, height, and number of people involved. There are steps you can take to protect your firefighters on these challenging scenes. At American Trade Mark, we want to help you prevent injuries and loss of life with the information and tools you need.
We believe that rapid planning, efficient information distribution, and firefighter tracking all help.
Historic Hotel & Resort Fires
December 7, 1946 – 119 people were killed during the Winecoff Hotel fire in Atlanta, Georgia. A single stairway served all 15 floors, trapping occupants. Survivors had to jump down to waiting nets or wait for rescue from upper story windows.
July 31, 1979 – 10 people were killed and 82 were injured at the Holiday Inn located in Cambridge, Ohio. An arsonist started the fire, exposing floors of people to toxic smoke and trapping others in rooms where the windows would not open.
November 21, 1980 – 85 people lost their lives when the MGM Grand Hotel in Las Vegas caught fire, and hundreds more were injured. It took four hours to evacuate survivors from the exits or rooftop of a 26-floor burning building.
August 26, 1995 – There were no casualties in this 16 alarm Brookly, NY fire. 4 large buildings were consumed, however, and 700 firefighters involved in putting out the St. George Hotel.
Faster Fireground Communications
When a fire starts in a hotel or resort, it can spread rapidly, cutting of points of entry and egress. Having a plan in place to get firefighters in and people out can save countless lives. Incident command boards allow you to collect and update information quickly. You can collect known information about a building, and communicate it with firefighters as an incident unfolds.
Dry Erase Boards – Easy To See & Update
Plan Many Response Tasks In Rapid Succession
Boards Are Portable For Command On-The-Move
Easily Track Team Tasks, Locations & Available Resources
Track & Move Your Crews
Our firefighter ID tags can help you keep track of who is working in what section of a high-rise building, as available rescue points change. You can also keep tabs on who needs to move as chemical contaminants or combustive agents are uncovered.
Scotchlite™ Reflective OR Vinyl Printing
Digital Printing For Serial Numbers Or Names
Long-Lasting Lamination For Slick Or Uneven Surfaces
Flexible Tools For Hotel & Resort Fires
From initial fireground size-up to getting vacationers and firefighters home safely, the right tools can help. At American Trademark, we want to help you approach your next hotel fire call feeling more prepared because you are. Contact us today to place your order or to find out more about our customization options.