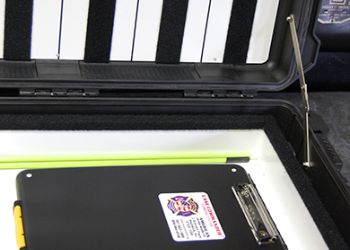 In the dynamic and demanding world of emergency response, every second counts. It's essential to adapt, innovate, and effectively manage complex incidents to ensure your employees' and communities' safety and well-being. At the heart of this lies your incident command process — the structured framework that guides firefighters, EMS, and emergency response teams in coordinating efforts and achieving successful outcomes. Choosing the right update frequency for this process is critical and essential.
Why Should You Update Your Incident Command Process?
Your incident command process should evolve alongside the ever-changing emergency response environment. New technologies, advancements in equipment, and emerging threats necessitate ongoing reviews and updates to ensure the process remains effective and aligned with current best practices.
Ensures Timely Interdepartmental Communication
Synchronizes Response Tasks
Allows For Strategic Decision-Making
Enables Optimal Crisis Resolution & Control
Allows For Proper Review & Revisions Of Incident Action Plan
3 Factors To Consider When Determining Update Frequency
Effective emergency responses hinge on the timely and accurate dissemination of information to each team member. Several factors come into play when determining the right update frequency for incident command procedures.
Technological Advancements: The introduction of new tools and technologies, such as drones, communication devices, and data analytics tools, can significantly enhance emergency response capabilities. Updating the incident command process to incorporate these advancements equips emergency teams with the latest tools to manage complex incidents effectively.
Changing Incident Types & Trends: The nature of emergencies is constantly evolving, with new threats and major incident types emerging. Regular updates to the incident command process allow emergency response teams to adapt to these changing trends and ensure they are prepared to respond effectively to any type of incident.
Lessons Learned from Past Incidents: Every incident presents valuable learning opportunities. Critically evaluating past incidents and identifying areas for improvement can lead to enhancements in the incident command process, preventing similar mistakes in the future.
How To Update Incident Command Processes
So, how do you know which update frequency is right for your ICS organization, department, or team? We've put together a few tips to help you get started.
Involve Stakeholders: Engage all relevant stakeholders, including firefighters, EMS providers, police officers, and other emergency responders, in the update process. Their insights and expertise are crucial for developing a comprehensive and effective unified incident command process.
Prioritize Simplicity: While the incident command process should be comprehensive, it should also be easy to understand and implement. Avoid overly complex procedures or jargon that could hinder multiagency coordination, effective communication, and decision-making during an emergency.
Emphasize Accountability: Establish clear accountability systems to ensure that all personnel involved in the incident are aware of their roles and responsibilities. This promotes a culture of ownership and helps to avoid confusion or duplication of effort.
Foster Continuous Improvement: Adopt a mindset of continuous improvement, regularly evaluating the effectiveness of the incident command process and making adjustments as needed. This ensures that the process remains relevant and adaptable to the ever-changing landscape of emergency response.
Tips For Ongoing ICP Implementation & Monitoring
Your proactive incident command process should ideally be a dynamic, effective, and invaluable tool in your disaster preparedness arsenal. These strategies assist in implementing and monitoring update frequency effectively.
Train & Educate Incident Response Teams – Ensure every member of your incident response team is adequately trained on the importance and techniques of updating the ICP efficiently. Periodic educational sessions should be integrated into your standard procedures.
Utilize Technology & Automated Systems – Leverage easy-to-use tools and automated systems to accelerate and optimize the update process. From data collection on command boards to risk assessment, this equipment can improve accuracy and reduce the potential for human error.
Monitor & Evaluate The Impact Of Your Update Frequency – Keep a keen eye on the impact of the update frequency on your emergency response team's operations. Accountability tags and systems streamline these efforts. Identify the positives and the areas where there is room for improvement.
Make Adjustments Based On Feedback & Lessons Learned – Open channels for feedback from your firefighters, police officers, and EMS teams and actively solicit their insights. Learn from past incidents and apply those lessons to refine your emergency notification procedures, ensuring that your crisis response is always at the top of its game.
Accountability Systems For Incident Command
Accountability systems are an essential component of an effective incident command process. They provide a clear chain of command, ensure that all personnel are aware of their roles and responsibilities, and facilitate tracking of actions and decisions. This helps to prevent confusion, duplication of effort, and potential errors during an emergency.
Accountability Tags: A Simple Yet Effective Solution
Accountability tags provide a simple and effective way to implement accountability systems within your existing incident command process. These tags are easily visible and identifiable, allowing for clear designation of roles and responsibilities. They can also be used to track personnel movements and actions, providing valuable information for post-incident analysis and improvement.
Your Partner In Incident Response Excellence
Our incident command boards and systems are designed to enhance communication, coordination, and accountability during emergency response operations. Our products are easy to use, simple to update, and tailored to meet the specific needs of an incident commander leading firefighters, EMS, police officers, and other emergency response management teams.
Incident Command Tools Built To Support You
With equipment from American Trade Mark, you can rest assured that your incident command process is current, effective, and aligned with best practices. Our commitment to innovation and continuous improvement ensures that you have the support and resources you need to navigate the ever-evolving landscape of emergency response and protect the communities you serve. For easy-to-use and simple-to-update incident command systems, we encourage you to contact us for more information on our customizable emergency response tools.