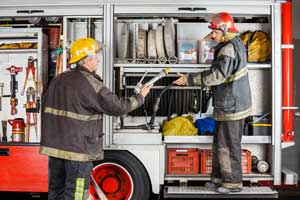 If your department is looking for additional funding to ensure your firefighters have all the necessary equipment to do their job and stay safe while doing it, consider fire department grants as a viable funding option.
We want every department interested in our firefighter accountability, passport, and incident command systems to be able to afford this equipment. Fire department grants are an effective way to secure financial resources and offset the heavy costs of operation.
Getting The Fire Gear You Need
Grants help to enhance a department's effectiveness along with the safety of the men and women who dedicate their lives to saving others. If you are part of a volunteer fire department or any other department with an established financial need, a grant could secure you the resources to purchase the fire gear that's vital to your job and your life. Available fire department grants for equipment often include:
Firefighter Gear
Fire Equipment
Incident Command Systems
Apparatus Purchase
Firefighter Accountability Gear
Fire Personnel Training
Funds for fire equipment and gear are more readily available than many people realize. Often the only thing keeping countless fire departments from receiving funding is the submission of an application.
Grants For Fire Departments
Finding grants for fire department equipment isn't that hard when you know where to look. At American Trade Mark, we've put together a list of our top picks for grant resources. Resources for finding the right grants for your fire department equipment include:
FEMA's Assistance to Firefighters Grant Program
The Leary Firefighters Foundation
Firegrants.info
USDA's Funding Resources for Rural Fire Departments
A Grant Award Is A Win For Everyone
Not only do grants benefit the award recipients, but they also benefit the communities these fire departments serve. Grants are an integral part of keeping fire departments functional and well-equipped with firefighter accountability tags, boards, and systems. This is an important part of a larger commitment to continually improving their capability and overall safety.
Secure Additional Funding Today
As a manufacturer of incident command and firefighter accountability systems, American Trade Mark understands just how important the right gear is to any fire service. Don't let resource limitations stop you from getting the equipment you need. From standard fire department grants to rural fire department grants and beyond, begin your application process today and be on your way to securing additional funding.