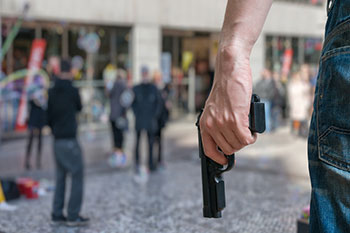 During a time when first responders are being asked to be prepared for more than the volleys of nature and accidents, we at American Trademark have put together some useful fire and EMS incident command tips for active shooter scenes. Mass casualty incidents on the news have evolved until we are plagued multiple times a year with reports of these mass shootings. Though unpredictable in nature, we hope lessons learned from past encounters will help us all prepare, act, and react to these emergencies to the best of our abilities.
Controlling The Chaos On Active Shooter Scenes
As incident commanders and emergency response teams, we only wish we could go about predicting the unpredictable. To keep as many people safe and ensuring the best outcomes for those caught in the line of fire, all we can do is be prepared to act and then coordinate that action as smoothly as possible when the unfortunate time comes. Although the actual scene can be chaotic and fast-paced, there are some steps we can take to minimize tragedies and more effectively triage.
Unify Command
Keep Entry & Exit Points Clear
Designate Areas For Different Departments
Prioritize Agency Response
Make Use Of All Available Resources
Give Media A Controlled Birds Eye View
Learn. Train. Prepare. Repeat.
Use What You Learn To Educate Communities
Incident Commanders, A Unified Force To Be Reckoned With
As suppliers of incident command boards, command board systems, and emergency personnel accountability gear, we know that a smooth running scene begins and ends with incident command. Active shooter scenes are no different. This type of emergency response requires a unified command shared between the incident commanders of multiple agencies. This way, fire departments, police departments, and EMS teams can most effectively share information, pool resources, and designate the proper response.
Making The Most Of The Aftermath
Coordinated command makes sure that whether decisions are being made about media placement, walking wounded care, or police action, everyone is on the same page about agency priorities for the most effective emergency management. Your emergency response teams will be working well beyond the minute the scene is stabilized.
Helping You With Effective Incident Command
At American Trademark, we hope these fire and EMS incident command tips for active shooter scenes give your department a starting point to identify the tools you need to take and keep command of the most complex emergencies. Our customizable incident command boards can be suited specifically for fire and rescue command or to help EMS teams with triage. Order your gear or contact us with any questions you may have today.