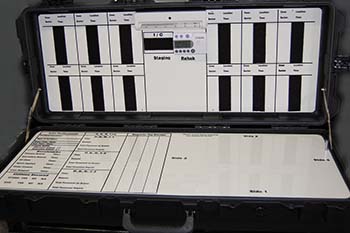 Count on EMS command boards from American Trade Mark to promote safety and accountability for first responders, emergency response teams, and paramedics. Our emergency management systems help your incident command officers keep chaos at bay and focus life-saving efforts where they are needed the most. Best of all, these tools can be customized to meet the unique needs of your agency or department.
START Triage Command Boards
Our Flex Commander incident command board with EMS option is specifically designed for EMS incident accountability. This EMS accountability board is printed with the simple triage and rapid treatment procedure in the upper lefthand corner. There is also plenty of space for strategic planning. This lets your safety commander smoothly go about tracking and guiding rescue efforts so rescuers can concentrate on triaging, tagging, loading ambulances, and transportation to the hospital. Other benefits of this customizable accountability board option include:
Durable Waterproof Vinyl
Waterproof Board Mounting Available
Flexible & Fully Portable
Compatible With Our Command Cabinets & Systems
Reusable With Dry Erase Markers
Custom EMS Safety Products
To further aid your safety officers with emergency management on the scene, our EMS command boards are compatible with many of our incident command system options. We have a solution for every command type. For a central base of action in the midst of things, use your custom command board with our sturdy, all-inclusive Case Commander® incident command system.
Prefer to take control from the perimeter of the scene? To manage things from the back of a vehicle, The Steel Commander™ can be built to size. For coordination from the front of a vehicle, we recommend the Dashboard Commander™.
Products That Improve Your EMS Incident Accountability
By tracking your incident command with our products, you create a record that can be used to improve your EMS incident accountability. Our command boards provide you a reference point once everything is under control and everyone is back at the office. This transparent evaluation system can improve patient experience, improve efficiency, aid in future strategic plan deployment and evaluate your teams progress from scene to scene.
Let Us Support Your Rescue Efforts Today
At American Trademark, we provide you with quality EMS command boards to support your agency's accountability and safety initiatives. We invite you to call us today to place an order or see how we can customize a product to do exactly what you need it to do. We look forward to helping you and all those you serve.