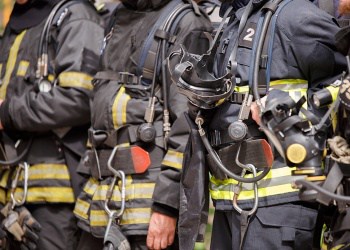 COVID-19 has impacted our communities in every way. Surprisingly, however, despite warnings to distance socially and stay home as much as possible, there is still a need for firefighters to respond to calls at mass gatherings. The aggressive response to issues surrounding immigration, racial injustice, and civil rights violations only seem to be heightened by the loss of life, economic struggles, disruptions to routine, and anxieties related to the coronavirus.
As incident commanders, how do you protect your firefighters from COVID during protests and other large crowd situations? We've put together a list of 5 tips recommended by the International Association of Fire Chiefs (IAFC) to help guide your efforts.
Stay Aware
Develop A Crisis Communication Plan
Have The Proper PPE On Hand
Adhere To Social Distancing Guidelines
Provide Proper Post-Incident Decontamination
1. Know What's Happening In Your Communities
Situational awareness should involve communications before your crews are even called to a fire ground, mass shooting, or protest. What's going on with COVID numbers in your area? Are there any local sources of unrest or planned gatherings?
Keeping information lines open across the divisions of first response teams in your area can help you to be and stay prepared.
2. Plan, Practice, Revise, Repeat
Make sure you have a crisis communications plan in place for responses to mass gatherings. This plan will help to provide a framework for emergency communications and mitigate potential damages and complications.
If a unified command is a part of your plan, make sure your firefighters practice with other agencies. Experience with police and EMS teams can provide valuable information on how to respond to both large groups and COVID risks more effectively.
As you learn more and identify new potential threats to safety and health, revise your plan. You may wish to have a dedicated incident command system or specific incident tracking boards set up specifically for crowd calls.
3. Get Your Gear In Gear
All firefighters should be aware of how crucial wearing personal protective equipment is. This national pandemic makes proper PPE an even greater necessity. The CDC has outlined a list of specific safety gear for first responders examining or transporting people during COVID-19.
A Fit-Tested NIOSH-Approved N95 Or Higher Level Respirator
Disposable Examination Gloves
A Full-Face Respirator Or Other Eye Protection — Face Shield Or Goggles
A Protective Gown Or Coveralls
4. Socially Distance On The Scene
On crowded scenes, your safety officer should help to ensure at least a six-foot working area around your incident command post (ICP), staging areas, and treatment areas. You may need yellow tape and custom signage to keep these designated social distancing zones clear.
5. Cleanup To Protect Firefighters & Their Families
Lastly, no firefighter is unfamiliar with the need for adequate decontamination. Cancer-awareness has put the myth that dirty gear designates heroism to rest. Donning and doffing procedures, apparatus sanitizing, and PPE cleaning should all be familiar to your team.
During mass gatherings, however, there is the added threat of contaminated substances being thrown at or near groups of firefighters. Accountability tags can keep you aware of which crew members are deployed in at-risk areas, so you can respond with rapid decontamination.
Both the US Fire Administration and the IAFF outline coronavirus-specific guidelines for proper firefighter gear handling and disinfecting. Proper cleanup can protect your firefighters and the families and communities they return home to.
Order Incident Command Systems To Track It All
As you can see, protecting firefighters during COVID-19 only gets more complicated on calls involving large crowds. At American Trade Mark, we carry personnel accountability systems and incident command boards that can help you track, manage, and plan during these sensitive situations. Contact us today to place your order or find out more about customization options to help you get prepared.