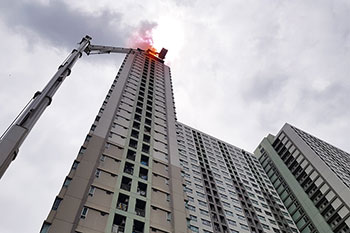 Face the uniquely difficult set of challenges involved in high rise firefighter safety with tips and tools from American Trade Mark. Firefighter safety is our priority, whether your fireground is in a forest or 8 floors up. Not looking forward to tackling high rise fires in hotels, motels, office buildings, and high rise apartments? Go in with more confidence and control when you've thought ahead and outfitted your department thoroughly.
Safety Tips For High-Rise Fires
The old standby for high rise operations is the acronym, ALS-BASE. Attack, Lobby, Staging, and BASE help approaching units know where to start and what to do once they get there. Expertly maneuvering each of these firefighting tactics can assist you in focusing on fireground communications and help you more safely fight high rise building fires.
Clear communications, standard operating procedures training, and building knowledge will always put you ahead in any tactical firefighting situation.
Park with BASE personnel safety in mind.
Always bring needed equipment when traveling from BASE to Staging areas.
Use your PPV – Vent early.
Communicate floor conditions as you travel up.
Know how to shut down standard high-rise HVAC systems.
Clearly mark the fire access path to alert arriving units quickly.
Accountability is essential at your BASE and staging points.
Be prepared for tricky radio communication.
Leave elevator keys with elevators.
Be prepared to adjust to the scene.
First In? Investigate, Equipment & Attack.
The first unit on the scene is responsible for not only the initial attack but all the initial information collection and equipment stationing. High rise fire safety starts with the first personnel on the scene. Knowing what you face, making the path up as clear as possible, and getting needed equipment into position can save a lot of time and even lives.
Our portable command boards can help you keep this initial information all in one place until you get your staging area set up.
Lobby Control
As the second team in, lobby control is responsible for HVAC systems, ventilation, elevator safety, and fire path markup. Ventilating with PPV units early can help you fan away both heat and combustibles. PPV fans increase visibility for improved fire attacks and firefighter safety. Early PPV use also makes the environment more comfortable for non-evacuating people.
Staging – Incident Command & Accountability
Staging is the perfect place to set up incident command, check-in equipment, and personnel via your firefighter accountability system, and to serve as a rest area for those who need a break. Our incident command systems coordinate seamlessly with our accountability tags and passport systems for firefighter tracking. They are easy to transport and set up in any staging area.
A Safer BASE
When parking an apparatus on the scene of a high rise fire, you must think about safety not only inside the building but for those approaching from outside. Do your firefighters have to cross the street in low visibility areas? Is it so close that broken glass or falling debris will be an issue? Having a check-in point for people and equipment on the same side of the street in a parking lot is ideal.
Reliable Tools That Get The Job Done
At American Trade Mark, we understand that effective high-rise operations require not only preparation but also organization. Our incident command systems, incident command boards, and firefighter accountability tags are convenient and reliable ways to track fire conditions, resource allocation, and most-importantly people while employing your department's high rise fire structure tactics.
Contact us today to place an order or find out more about how we can customize your incident response tools and communications capabilities.