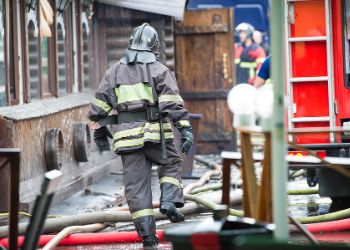 Every day, firefighters risk their lives to save people and property, which makes implementing a fall prevention plan essential. While providing a workplace "free of known dangers" is part of OSHA's fall protection guidelines, that's not always possible on a fireground. However, your department can reduce hazards and improve your fall prevention strategy with the right preparation.
Issues To Avoid In Your Firefighting Prevention Plan
The following issues can stand in the way of a comprehensive fall protection program that works.
Lack of inspections
Outdated harnesses and belts
Missing labels and tags
Absence of fall protection equipment
Prevent Debilitating Slips
Fortunately, you can correct these issues with the right policies and specialized equipment. Learn more about the different protection categories and how our products help firefighters prevent a nasty slip. The following risks can make the fireground an even more hazardous place:
Slipping on wet ground and surfaces.
Tripping over fallen debris.
Structure failure.
Slippery ladders.
Understanding Fall Protection
There are four categories of fall protection: arrest, position, suspension, and retrieval. Of these, positioning and arrest are critical in firefighting.
Positioning Considerations For Fall Arrest
While working on a ladder, you're transporting water and other substances to extinguish the fire. If you stop to do your job, you're considered to be on a work platform. This is where protection from slips becomes critical. Use the ladder leg lock to prevent slipping. With modern bunker gear, that's not always easy to do but using a ladder belt keeps you safe when loaded down with turnout gear.
Fall Arrest Equipment & Considerations
Fall arrest protection breaks your slip keeping firefighters safe. Personal Fall Arrest Systems (PFAS) involved four components labeled ABCD.
"A" is for Anchor: Structural adaptation such as an anchorage connector.
"B" is for Body: Harness worn by firefighters.
"C" is for Connector: This might involve a lanyard.
"D" is for Deceleration: These devices slow tripping up and include something to cushion the arrest.
Time Is Of The Essence On A Fire Scene
Typically, your crew won't be familiar with the building. This calls for a quick assessment, fast thinking, and the right equipment to get the job done. Firefighters often have to improvise when it comes to preventing slips. For example, they might use an ax as an anchor point.
Better Products For Better Performance On The Job
By using better products, such as anchors, they can create a work platform. Your team can use a lanyard connected to the anchor to prevent tripping. Bodywear includes belts, harnesses, and deceleration devices to break a slip
Where To Find Proven Firefighter Fall Prevention Gear
Contact American Trade Mark Co. to equip your team with accountability tags that can keep you organized and accountable for fall prevention and safety best practices.