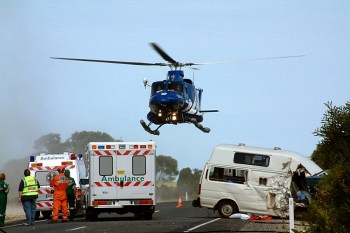 American Trade Mark knows what it means to develop strategies for EMS safety. Our years of experience working as first responders – and with them – has taught us many things to add to our knowledge box when it comes to emergency management and safety strategies.
Embrace Progress Over Perfection
It would be impossible to prevent all the issues that may compromise the safety of your team. A better strategy may be to work towards reducing the number of incidents overall. Any bit of progress is a win when it comes to safety. That being said, these are our top five strategies for better EMS safety.
Develop A Communication Plan
Maintain Equipment In Good Order
Practice Situational Awareness
Protect Your Body From Harm
Develop A Communication Plan
Reliable communication among members of your EMS team will always be the first priority. There should be an open door policy and trust that any issue can be discussed or questioned. Rank and seniority of team members should never be an obstacle to communication.
However, it's not just team communication that matters: EMS personnel must be able to communicate clearly with patients and family members. This should be emphasized as part of ongoing training. Clear communication prevents misunderstandings that may lead to injuries or other problems.
Maintain Your Equipment
Keeping your truck and all equipment in good working order is essential. Proper maintenance is one of the best ways to practice safety. So many problems can slip through the cracks because it's easy to put off minor repairs or make certain checks.
First responders are in high-stress situations. It can relieve a lot of stress to know all your equipment is being maintained and will work as expected when it's needed. Don't forget to check and change batteries on life-saving equipment.
Practice Situational Awareness
Be aware of your surroundings and who is in them at all times. As EMS, many factors can cause problems. Traffic is a huge factor to be mindful of – both as you drive and if you are helping someone on a roadway. Stay alert to weather issues and your environment.
Always try to keep an emotional radar checking the status of patients and those who are with them. When people are strained physically and emotionally, they can react in unexpected ways, which can lead to injury or even death.
Protect Your Body From Harm
22,000 EMS personnel visit emergency rooms each year because of work-related injuries. Bodily injuries might occur due to the environment or other people, but often it's a result of standard work efforts. EMS personnel can be at risk of injury from something as routine as lifting a patient when it's done incorrectly.
Focus on the task at hand and be aware of how your body is moving and what is needed. Tap team members for help, and don't risk your own wellbeing. The most common injuries in EMS personnel are caused by:
Normal Body Movement
Exposure To Harmful Chemicals Or Substances
Falling Or Tripping
Motor Vehicle Incidents
Violence & Assaults
Use EMS Incident Command Systems
One of the most effective ways to practice safety is to use EMS command boards. We offer incident systems that are custom made for EMS control. They are durable, waterproof, and provide options for triage and rapid treatment.
What does your team need to focus on? We can create an ICS to help you with tracking team members and their essential tasks, no matter the situation.
EMS Safety With American Trademark
When you implement smart strategies for safety, including incident command solutions from American Trademark, you can feel confident that you're doing your best for your team. Contact us and get started on creating your custom IC board. Make safety your priority.