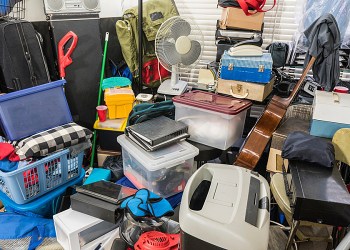 Tracking first responders in hoarder home fires is crucial for safety, and at American Trade Mark, we want to help you with awareness and the tools you need to keep your crews and communities safe during an emergency. Many people don't realize how dangerous holding on to things can be to themselves, their neighbors, and the people who are prepared to put themselves on the line in the event of an emergency.
Hoarding – A Massive Problem
A compulsive hoarding issue goes far beyond just collecting things. People with this mental disorder accumulate large amounts of items. They feel overwhelmed or distressed at the thought of getting rid of their stuff, including everything from broken appliances to used food containers, and in some cases, even large numbers of animals.
Their living spaces become so overloaded with stuff that simple, everyday tasks become difficult or even impossible. When someone has to crawl over or tunnel through their belongings to move around the house, how are first responders suppose to get in or maneuver?
Challenges To EMS, Fire Departments & Other First Responders
According to the NFPA, "between three and five percent of the population — as many as 15 million Americans — are compulsive hoarders…and perhaps 10 percent [of compulsive hoarders], live in squalid or unsanitary conditions." This growing, hard-to-treat condition is not just a problem for the individual living in these conditions. Hoarder homes create many unique risks for first responders as well.
Excessive Fire Loading & Structure Collapse
Greater Chance Of Ignition & Rapid Fire Growth
Risks Of Spread To Adjacent Buildings
Blocked Windows & Doors
Chaotic Environments Make Rescue Difficult
Packed Rooms Complicate The Fire Attack
Harder To Find The Ignition Source
Falling Object Hazards
Slip, Trip & Fall Hazards
Loose & Frightened Animals
Exposure To Unsanitary Conditions
Tracking Tools For A More Informed IC & Prepared Crew
How do you keep track of your firefighters and EMS crews amid chaos or direct personnel through rooms where you can't see the walls or find your bearings because there's just so much stuff? We carry a range of customizable accountability and fire scene tracking systems to help you manage first responders from initial size-up information collection to information gathering for post-call reports and future training.
Here To Help You Evaluate & Reduce First Responder Risks
Improve fireground communications in hoarder home situations with tracking tools from American Trade Mark. We want to help you keep track of your crews on the scene, even in the most challenging circumstances. Contact us today to place your order, find out more about customization options, or get answers to your questions about our command boards and accountability systems. We look forward to helping you tackle all aspects of incident command.