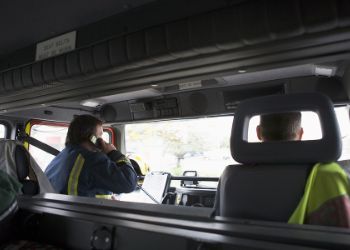 Are you looking to improve your communications when deploying your incident command truck in large emergency response situations? While testing equipment and charging batteries is always crucial, effective communication starts with routine station training.
Clear Communication Keeps Crews Informed, Safe, & Confident
While your crews always need to use their practical training to put down a fire, diffuse a tense situation, or assist in a medical emergency, communication is the one skill that helps them stay safe and effective. Clear, consistent communication improves your response time and effectiveness, especially in a large emergency response that uses units from multiple municipalities and across all services.
Training For Improved Communication During Incidents
Clear emergency communication must be taught and practiced during your ongoing training sessions. Your crews will develop habits using their radios and procedures that will automatically be employed in any high-stress situation. These four key tips will help you develop a fast and effective training session.
Standardize Radio Communication
Tag In & Out At Command Boards
Schedule Routine Updates For Field Units
Adhere To The Command Structure
Use The Same Format & Order Of Information For Radio Calls
Working with your local, regional, and state authorities, begin every training session with a call-out formatted for your particular radio procedure. Include unit or officer designation, their action such as responding, reporting conditions, or on-scene, and a specific location or status update.
Log All Assets In & Out On A Centralized Incident Command Board
When arriving on the scene at the incident center, have every crew member sign in at the command boards. Place a matching tag on the officer and on the board according to their location and responsibility. Should you receive only a partial response from a unit, you will know where to send assistance or backup.
Set A Standard Check-In Time For All Deployed Units
You will not have visuals on every unit while working on an investigation or response at an office building, mall, or open parkland. Set a standard cadence for check-in with each squad leader, such as 5, 10, or 20 minutes. This verifies their safety and allows command to adjust tactics in a timely manner. Also, staggering the check-ins limits the amount of chatter on the frequency.
Minimize Noise By Transmitting Orders Down The Chain Of Command
Take advantage of command structures among all responding units. Limit communication between the command center and the officer in charge of each truck, squad, or division. This streamlines chatter on the radio and allows incident command to focus on a wider area while leaving details to unit commanders.
Command Boards & Tags Improve Incident Outcomes
Improve your communication and accountability on-site with command boards and accountability tags from American Trade Mark. Make sure to stock up so that all your assets and personnel are covered—-give us a call to place your order today.