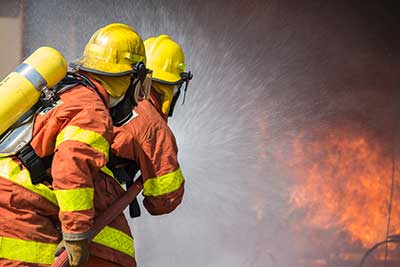 At American Trade Mark, we offer an effective range of accountability products geared towards helping you with reducing firefighter workplace injuries. Accidents happen, and the nature of emergency response leaves very little time for warm-ups and preplanning. So, along with a solid training foundation, your on-scene incident command arrangement is your best tool to protect your fire response team.
Common Firefighter Workplace Injuries
Contrary to popular belief, the dangers of putting out a blazing fire do not commonly lie with the fire itself. You train, strengthen, and protect your team with adequate equipment against burns and smoke inhalation. The following are more frequently reported firefighter workplace injuries:
Firefighter Overexertion
Slowed Fire Incident Reaction Times
Accidental Falls, Slips, And Trips On Scene
Harmful Substance Exposure At A Fire
Emergency Response Transportation Accidents
Violent Injuries By People Or Pets At The Scene
Preventing Overexertion For Firefighter Safety
Overexertion is the number one cause of fire scene accidents in firefighters. Who is on the scene? How long have they been there? In the hustle and bustle of protecting people and turning a dangerous situation into a controlled one, fire personnel safety can sometimes take a backseat. Fire accountability tags and incident command boards help you track who needs a break. In the heat of the moment your people want to get the job done, you want them to get the job done right so that they can be there to perform for many more jobs to come.
Slips, Trips, Sprains & Dogs
Knowing where you firefighters are with tools like accountability tags, command boards, and apparatus passports is just as important as knowing how long they've been there. When a possible explosion, trip or fall hazard, or scared, loose bulldog is located, you want to be able to communicate to all firefighters in the area to be on guard. An aware man might mean one less man down. Even just preventing one less fall injury benefits the fire scene as a whole.
Protect Yourself, Protect Your Fire Crew
Reduce firefighter workplace accidents and injuries with quality accountability equipment. At American Trademark, we provide you with durable firefighter accountability tags, portable fire scene incident command systems, and firefighter passport gear to protect you and your fire crew. Contact us today to order firefighter accountability equipment tailored to the unique needs of your fire department.